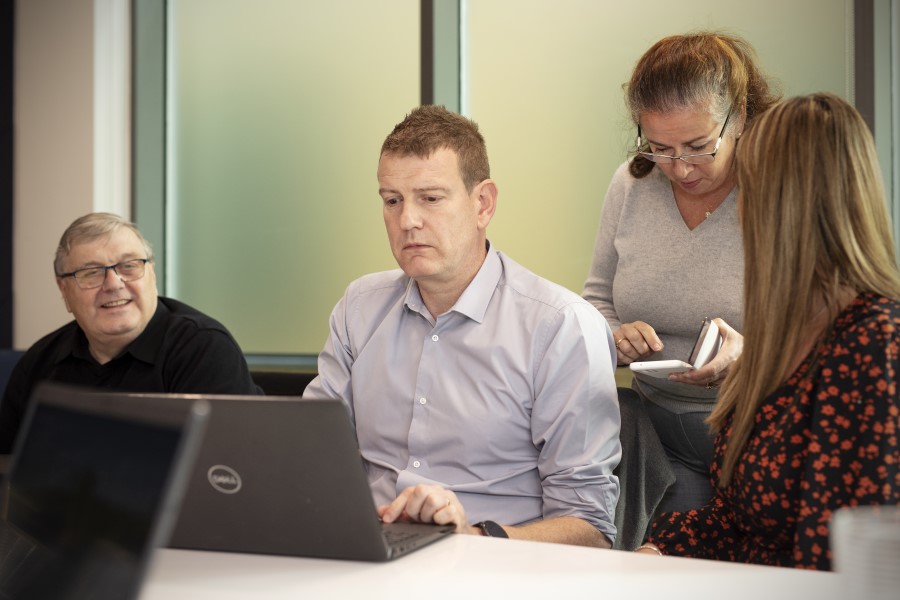 How we've been driving sales and adding value to brands?
If there's one question I'm often asked, it's 'how can I get my products in front of buyers?' In the foodservice sector, giving yourself the best chance of success involves preparation and consideration, so where to start?
Let's begin with the wider picture…
What is 'foodservice'?
'Foodservice' is such a broad word, but simply put it means anywhere I can buy prepared food outside of my home. This means everything from hotels and restaurants, to pubs, fast food outlets and coffee shops. It also includes the travel and leisure segment, as well as contract catering for business and industry, schools, colleges, universities, hospitals, or care homes.
As you can imagine, there are so many opportunities here – food and beverage sales in the foodservice market top £45bn (excluding alcohol) and there are around 220,000 foodservice outlets in the UK. This resilient market has bounced back to over 80% of pre-Covid sales across the board.
All the outlets that I just mentioned are of course supplied by wholesalers. Suppliers deliver their products to the wholesalers, who then distribute them to their customers – these are the people we need to get in front of.
Here's a simple(ish) way of visualising the structure of the foodservice market, with some examples of end users (the operators who run the hotels or restaurants) and the wholesalers. The ones in blue are your targets here.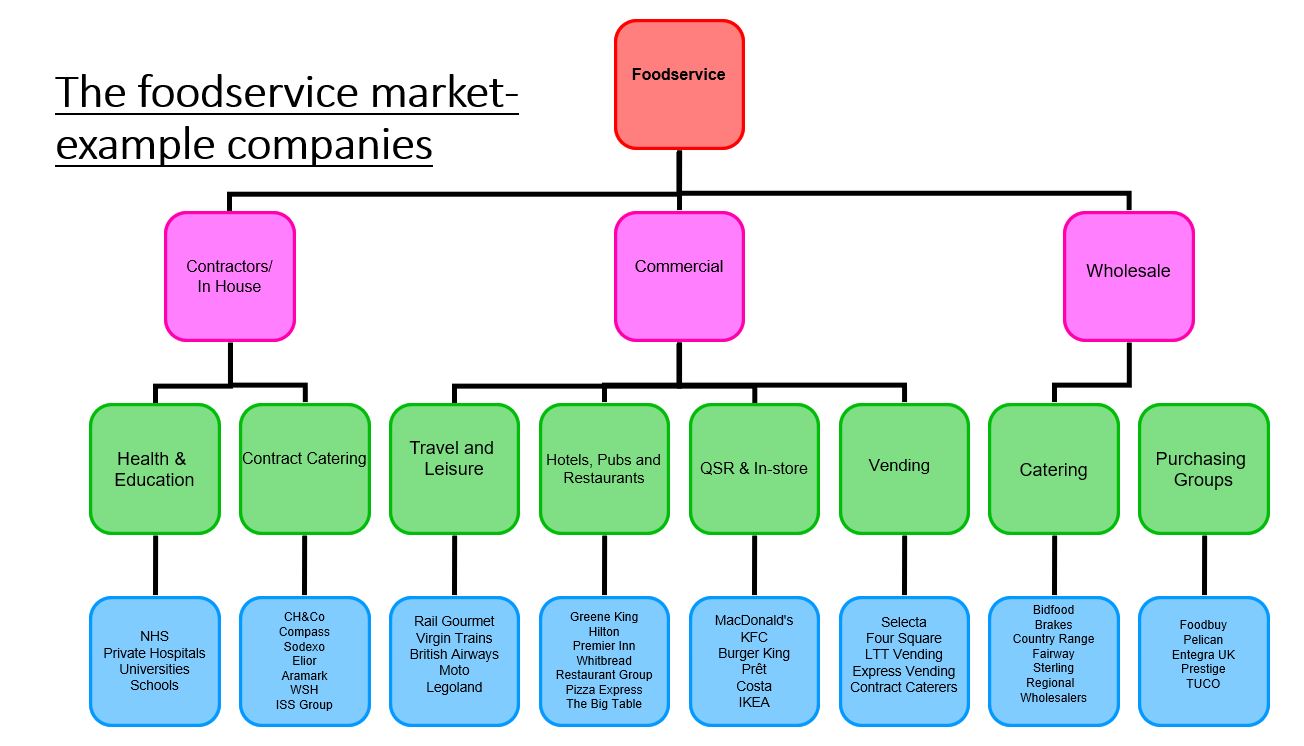 Tinker and tailor
Hold on – before you get too excited and can even think about pitching to the decision makers, you need to think about which channels and end users are going to be right for your products. Tailor your pitch with this in mind.
So, it's good to think: will your products work best in pubs or staff restaurants? Maybe they'd do well in care homes or universities? Or are you confident that they've got such a broad appeal that they could work across the whole foodservice market?
Having decided where you think your products will work best, now you can think about contacting the wholesalers and end user buyers and, fingers crossed, arrange a meeting.
Got your foot in the door and secured that meeting with your dream buyer? Success! Almost…
Once you're in, that's your time to shine and show off how your brilliant products are going to stand out among the competition, and you'll want to have that pitch clear in your own mind before you walk in the room. If your products are new to the foodservice market, think about what format is right for the end user you're targeting. How many products per case suits their needs
Back of house or front of house?
In foodservice, products are often split between those used back of house in the kitchen and front of house on the counter, and that's another thing to think about. If your product is a grab and go item, it may be competing with dozens of other items on a counter, and the space available will be limited.
How will your products be displayed, who is your target audience and what will catch their eye? How can you make your product stand out in a crowded space without having a big flashing neon arrow above it? Although if you're willing to invest in that, it all helps…
If your product is meant for back of house, on the other hand, how are the chefs going to be using it and what added value and efficiencies will it bring to the kitchen? Obviously foodservice represents an exciting opportunity to generate new revenue, but it's also an excellent opportunity to bring your brand to the attention of more consumers.
People who work in foodservice are always experimenting to find new and innovative products on the market, and if their customers enjoy buying yours in their staff restaurant or coffee shop, they may then go and look for it in their local supermarket – it's a win-win.
It's simple really, all you need to do is be clear on who your product is targeting and why it's different from its competitors and condense that into one short and punchy presentation. Buyers don't like long decks full of retail insights, they just want to be sure it's going to sell in foodservice, which is what you both want.
Of course, knowing the buyers is really important. We've spent decades nurturing our relationships in this space to get to a position where we give them what they want, and offer the right sort of advice to brands looking to speak to them.
Hopefully that's given you some food for thought. The road to winning new listings in foodservice is not an overnight success and it can take time. But if your products are good quality, competitively priced, and fit for whoever you're targeting, then you will get there eventually – good luck!
If you'd like to chat about how we can help you get your products in front of buyers and make sure you're ticking all the right boxes to give you the best chance of success, I'm here to help. Give me a call on 07977 568 7644 or email peter@fusionfsm.com and let's get a conversation going